Members may enter in here…
 …a haven that has been likened to a secret garden…a village well to gather 'round and fill our pitchers…the villa in Enchanted April (where I got the name!). At Wisteria & Sunshine we are seeking-and finding-Wild Simplicity and Deep Domesticity. For a small cost each month ($8), I offer an approach to paring down and refining, to discovering and deepening . There is plenty of inspiration-visual and written, projects to join with if you wish, celebration and thoughtfulness about Life…all woven in and amongst the seasonal, cosy, literary beauty.
Something new to read or see each day, a quiet community of kindred spirits, resources of all kinds to support living your Every-days more in rhythm with your heart and the earth. We have had adventures in Spring Cleaning together, creating approaches to taking better care of ourselves, crafting our own Daybook planners and this month…
Click here to go to a tiny sign-up form…
.
…..
.
What does it look like at Wisteria & Sunshine?
Here are some glimpses of the Front Page, the tag cloud with many of our interests, and some links to sample posts…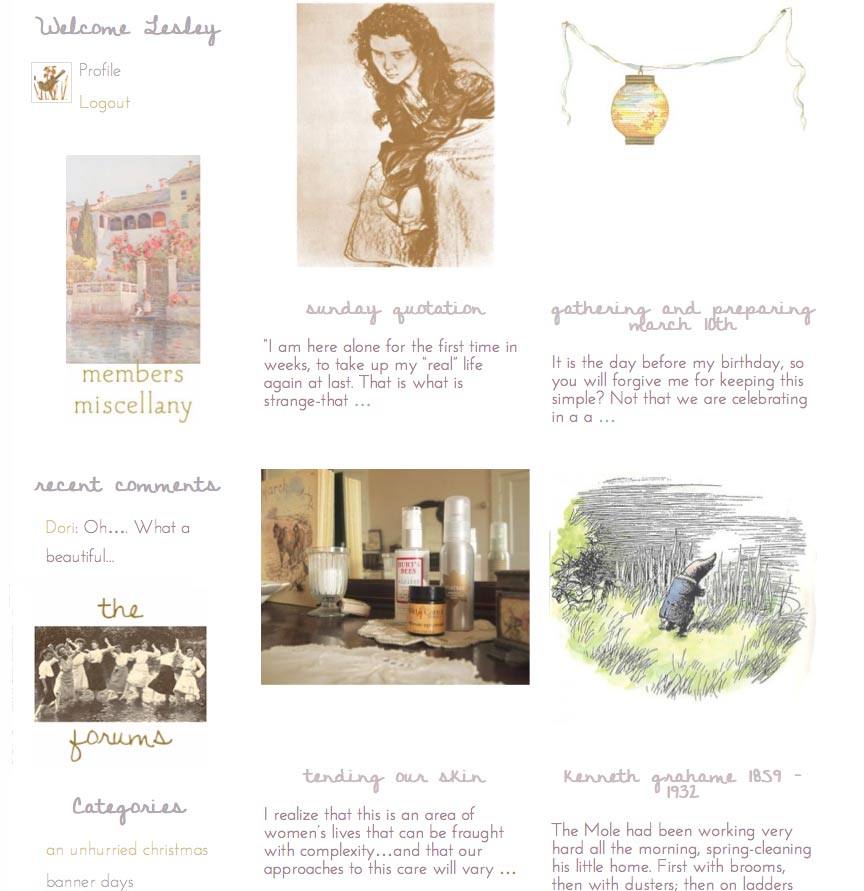 .
.
.
.
Who am I?
I love Home…I love Beauty…I love Peace, inside and out and I've been seeking out the heart of these things for nearly three decades now. I am in love with what I like to call the Everyday Deep…for I find that our Everydays have all the scope for imagination one could want. I am no homemaking guru…I have more questions than answers…but the questions make for interesting adventures-in homemaking and in tending all our tendrils of connection to each other and the planet and all within our care. It is a delightful privilege to explore all the joys and challenges, here, with you…
.
.
..
Perhaps You are Wondering?
-Will I have access to all the archives and past posts and offerings?  Yes, you will. It is all waiting for you, once you become a member.
-Does membership require participation? Not at all…for some, Wisteria & Sunshine is an escape (tho' an inspiring one!) and a place to come to for pleasure and beauty-like a magazine. For those who are looking for a community of kindred spirits, Wisteria & Sunshine is that, as well. We have small conversations in the comments and also have a quiet forum when there is something to share. Members have profiles and pretty avatars and can join in as much or as little as they wish.
-May I cancel at any time? Yes, every recurring monthly payment email from Paypal has directions for cancellation.
.
What Members Are Saying…
"Wisteria and Sunshine has made a real difference in my life, in ways I can not even begin to explain. Some have actually not even been about homekeeping, but about friendship and gratitude and wonderment. But it's also true that I've begun looking more closely at what I want my home to be. You used the word "wholesome" in your post, and I think that encapsulates for me the ideal of homelife I wish to recapture – from my food to my cleaning to my daily life. W&S has encouraged me to be more mindful.  – Sarah Elwell
"And all of this is because of the gentle, stirring encouragement I receive here at Wisteria & Sunshine! Sometimes all it takes is catching a quick glimpse of one of Lesley's inspiring illustrations to refreshen my commitment to simplicity and to help me "unplug" and get back to the quiet rhythms of living well."  – Valerie
"I to feel that Wisteria and Sunshine has made a big change in the way I look at things. Like Sarah, I can't begin to
explain. It (you dear Lesley as well as all of the members), give me daily encouragement to follow a path that I have been drawn to since I was a teenager but have not always followed. It is a path to easily pushed off by influences around us. I am happy for this daily encouragement. – Gwyn
.
.