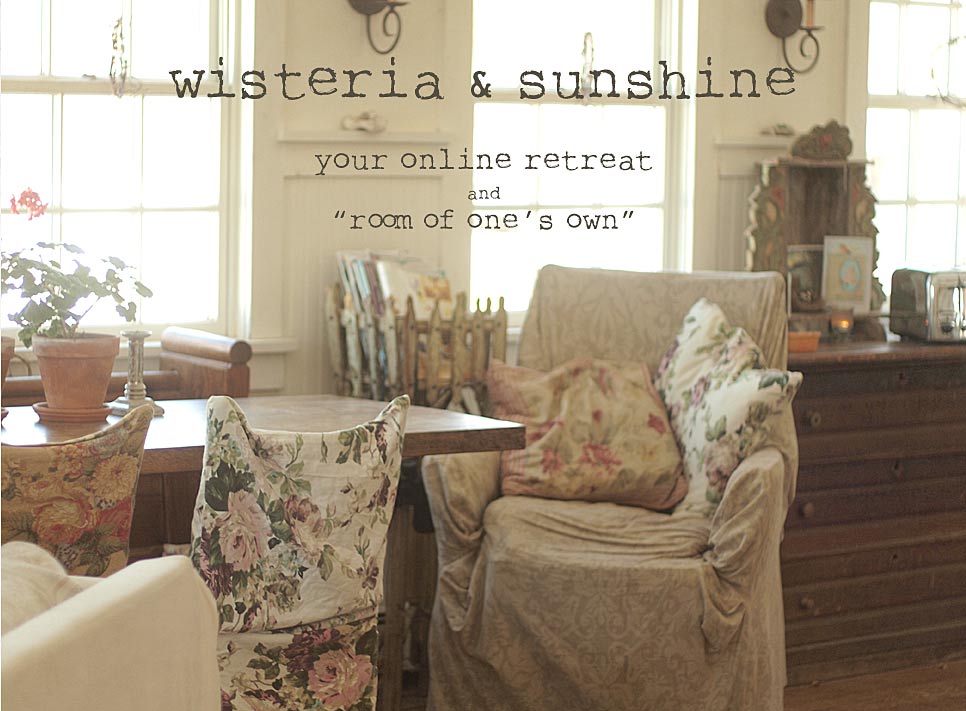 The doors are open again (for a little while)…
Are you a woman tending her own small world…and also thoughtful about the earth around you (or want to be)? You may be weary of the clamor everywhere and seeking support for a quieter, simpler path? I am also that sort of woman and have created this private haven in response to those longings.
Click to turn the pages below (turn sideways if you are on a phone) …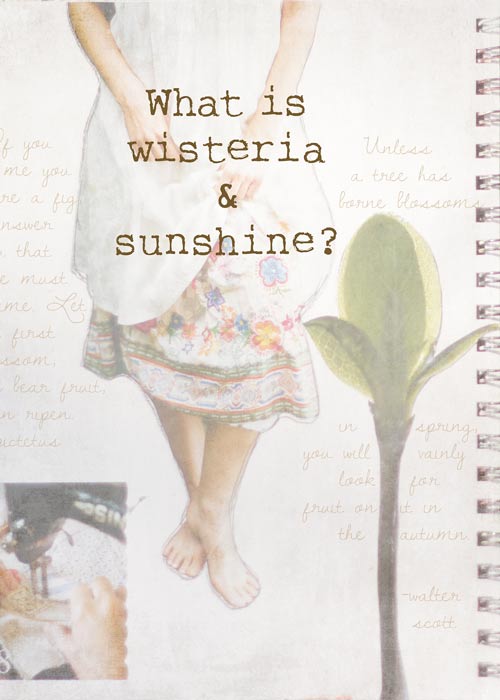 "Wisteria & Sunshine is a haven because you have an innate ability to distill into words what we all would like to say about life! Just you being willing to be transparent in how you approach life and make it so real & hopeful is a true inspiration for me."
-Lindy
I know how challenging it can be to keep on the path of living a Whole-hearted and Whole-some life, as a woman today. It is natural and inevitable to find ourselves having lost our way a bit and my hope is that the words and images you find here will be signposts to lead you back…
Our New Monthly Rhythm at Wisteria & Sunshine includes:
An Everyday Almanac post a few times a month with a gorgeous moon-collage that reflects both the season, the phase of the moon and our current focus, as well as contemplations, sharing from my life and seasonal observations to companion us throughout the month.
Our New Gathering…where on the first of each month, you will find six rooms filled with…
Lovelies-to-Print (monthly calendars and much more)

A Small Ways ebook and checklist to help make real progress with living more lightly upon our earth

Visits with other women on this path…interviews, At Homes with members, sharing of stories around our focus…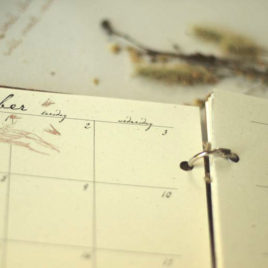 Cut and Paste, where you will find a lovely, large seasonal print and another papery project

Listen & Watch…with gentle recordings from me filled with poetry, thoughts and stories about Wisteria & Sunshine heroines, past and present

And a Reading room, with a handful of book selections to do with our focus, and links to past posts for going deeper around a theme
Our Monthly Focus gives us the opportunity to pay attention to something in our lives, our homes or our days that will be nurtured by some loving care and activities. Little attentions, spiraling 'round, bringing more delight and order as each month finishes…
Our Circle of the Year
JANUARY
Reflecting & Preparing for the New Year
FEBRUARY
Self-care
MARCH
Online Life
APRIL
Spring Cleaning
MAY
Gardening & Nature
JUNE
Clothing  & Shopping
JULY
Play & Pleasure
AUGUST
Restful Organization
SEPTEMBER
Simplicity
OCTOBER (all new on the 1st!)

Cookery & Kitchens
NOVEMBER
Advent for Advent
DECEMBER
An Unhurried Christmas
.
"You and W & S help me stay focused on this mindful, heart-centered and earth-centered path I am trying to walk.  If I can stay
on the path, perhaps I will be able to encourage others to explore it as well." -Dori
What other benefits will you receive as a member?
More than five years of posts and pages and conversation about home-making, rhythm-finding, simplicity-seeking are there for you to wander amongst and find what may help you.
A kind and gentle community of women to get to know, if you like.
Coming soon…peaceful, pretty email reminders, delivered to your inbox to help establish and support your rhythms and rituals

Occasional moon-centered "get togethers" online where we will work on something together…planning, vision boards…
"I am a long-time member because of the gentle and artful outlook of W & S. I find it inspiring without it overwhelming me with an unattainable lifestyle.
It feels genuine."
-Jen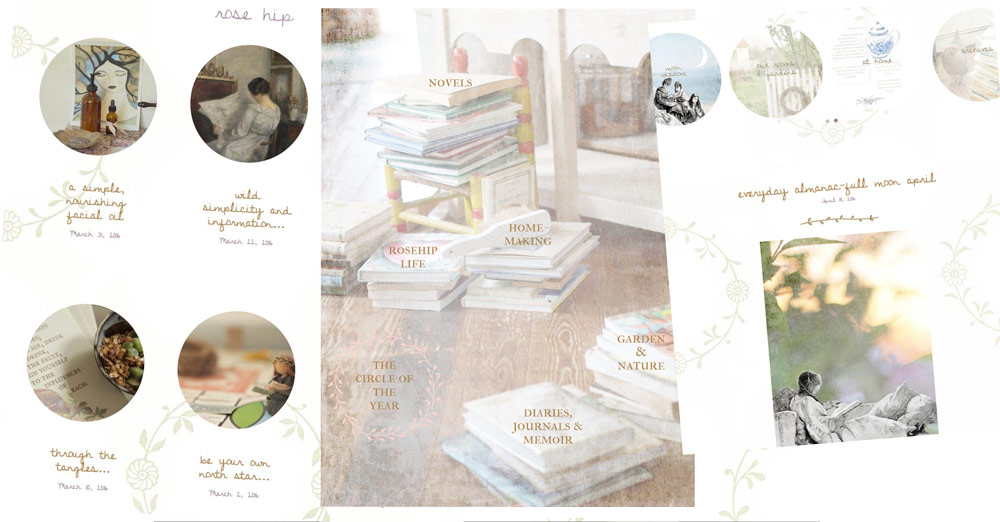 .
Who am I?
I love Home…I love Beauty…I love Peace, inside and out and I've been seeking out the heart of these things for nearly three decades now. I am in love with what I like to call the Everyday Deep…for I find that our Everydays have all the scope for imagination one could want. I am no homemaking guru…I have more questions than answers…but the questions make for interesting adventures-in homemaking and in tending all our tendrils of connection to each other and the planet and all within our care. It is a delightful privilege to explore all the joys and challenges, here, with you…
"Stopping by Wisteria and Sunshine while sipping my coffee quickly became a part of my morning routine. I have been a member for years now and it has always been such a restful lovely space.  I think my absolute favorite thing are the moon collages. There is a softness to your photos and offerings that help bring a little peace to my soul."
-Donna
Perhaps You are Wondering?
–What is the cost of membership? I set the price low intentionally so that there is little hindrance to your joining. Just $10.00 a month, $9 a month at the Quarterly level, and even less if you pay annually (that is almost a month free!).
–Will I have access to all the archives and past posts and offerings?  Yes, you will. It is all waiting for you, once you become a member.
–Does membership require participation? Not at all…for some, Wisteria & Sunshine is an escape (tho' an inspiring one!) and a place to come to for pleasure and beauty-like a magazine. For those who are looking for a community of kindred spirits, Wisteria & Sunshine is that, as well. We have both small and large conversations in the comments that go with each blog-like post. Members have profiles and pretty avatars and can join in as much or as little as they wish.
–May I cancel at any time? Yes, every recurring payment email from Paypal has directions for cancellation.
-May I receive a refund for the payments? That isn't really possible, due to the nature of the offerings. The investment is a relatively small one, and can be canceled at any time. And if you subscribe at the annual level, you are probably quite certain that Wisteria & Sunshine is the place you have been seeking, and I will gladly do my all to make sure that you are happy with your choice.
 
What Members Are Saying…
"Wisteria and Sunshine has made a real difference in my life, in ways I can not even begin to explain. Some have actually not even been about homekeeping, but about friendship and gratitude and wonderment. But it's also true that I've begun looking more closely at what I want my home to be. You used the word "wholesome" in your post, and I think that encapsulates for me the ideal of homelife I wish to recapture – from my food to my cleaning to my daily life. W&S has encouraged me to be more mindful.  – Sarah Elwell
"And all of this is because of the gentle, stirring encouragement I receive here at Wisteria & Sunshine! Sometimes all it takes is catching a quick glimpse of one of Lesley's inspiring illustrations to refreshen my commitment to simplicity and to help me "unplug" and get back to the quiet rhythms of living well."  – Valerie
"I to feel that Wisteria and Sunshine has made a big change in the way I look at things. Like Sarah, I can't begin to
explain. It (you dear Lesley as well as all of the members), give me daily encouragement to follow a path that I have been drawn to since I was a teenager but have not always followed. It is a path to easily pushed off by influences around us. I am happy for this daily encouragement. – Gwyn

Please choose your desired plan by clicking its box. You will then see your choice in the payment summary a little further down. A click on the round "register" button will take you to paypal.